Starting up and running a craft business can be extremely demanding, both mentally and physically. Especially if you are on your own.
Many sole traders, particularly when it comes to arts and crafts, find themselves bogged down by the practicalities of maintaining a successful enterprise. Keeping accounts, filing tax returns, arranging insurance, and trying to navigate through the minefield of terminology and acronyms suddenly being thrown at you can be daunting. What is a USP? Why does a website need to concentrate on SEO? And what the hell is a CTA?
It can be overwhelming, and it can be scary.
Artisanity was launched in February 2023 as a support network for crafters, makers, and artists in and around Congleton in Cheshire. The idea being that, as a collective, traders can share their experiences, talents, and connections with one another to overcome some of the hurdles facing small business owners. Through this initiative, they can help each other to thrive.
The brainchild of long-term friends Clare Watson and Jenny Drew, Artisanity was partly born out of frustration that makers and artists regularly find themselves restricted to selling purely at local craft fairs or online, with escalating property rates pricing them out of having a high street presence.

Jenny has worked within retail and the craft community for most of her adult life, so she is only too aware of the challenges traders face on a daily basis. Having studied art at A-Level, she later launched and developed her own 'Little Jen Jewellery' brand just over a decade ago, selling unique home-made jewellery at craft fairs, maker's markets, and via social media.
Clare, on the other hand, studied Law and Philosophy at Keele University, then remained in the area to become a maths teacher, before re-training as a specialised lactation consultant supporting new mothers in the north-west.
She has always been creative, however, and during lockdown discovered the ancient art of macramé, which involves tying knots in thread to create beautiful textile decorations and wall hangings.
"I found that tying things in knots was both relaxing and endlessly creative."
Clare later developed a special interest in micro-macramé, fascinated by the complex and intricate designs she could lovingly produce, and decided to launch her own brand, 'Knotting Special' which, like Jenny, she exhibited at local markets and fairs.
Then, in the summer of 2022, having previously worked together on a number of projects, the two friends teamed up with a handful of other creators to launch a temporary 'pop up' shop in nearby Macclesfield, which was so successful they repeated the venture at Christmas.
Encouraged by the feedback they received from customers, who thoroughly enjoyed the opportunity to watch local independent craftspeople at work, while learning the history, processes, and skills behind the unique items on offer, this gave the pair an idea.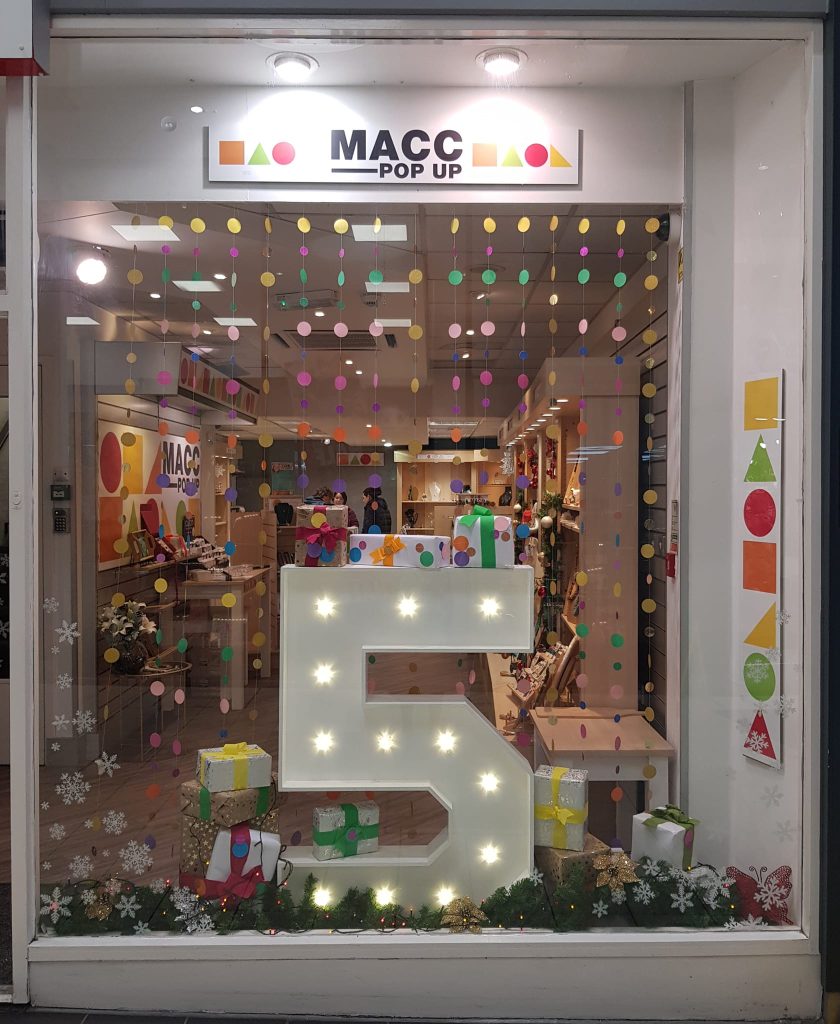 By joining forces with other like-minded individuals on a larger scale, they could achieve their dream of a more permanent high street presence. Forming a collective of traders, each supporting and promoting one another, would bolster individual skills and help participant businesses to flourish.
Following a brainstorming session, the pair then settled on the name Artisanity for their new venture.
"We wanted a name which encapsulates both sides of the business – the shop and the community – but which reflects our personalities," explains Clare, who also designed the brand's flamingo motif, which is based partly on an in-joke between the two of them, but also Jenny's love of all things pink.
Jenny goes on to explain the catalyst behind the project, as well as their aspirations for the future: "I want to reignite the high street. I want people to appreciate unique handmade items and value their worth. The art of shopping is not dead!"
Clare adds: "By working together with other makers and artists, having a physical shop where we can all demonstrate our creative talents needn't be a pipe dream – it's an affordable reality."
As well as opening their shop in Congleton, which will champion local talent, Clare and Jenny recognise the challenges facing independent traders, who often lack confidence when it comes to the pressures of keeping accounts, advertising, or web design. With this in mind, they also plan to launch a series of Artisanity workshops aimed at nurturing the skills of creative individuals within the community.
These workshops will be tailored to suit the specific needs of attendees, with diverse topics ranging from marketing, social media, product photography, accounting, and copywriting, all delivered by local specialists in each field.
Reinforcing this initiative will be a membership package, affording participants preferential access to all the benefits of the support network, but with the additional bonus of 'spotlight' articles across the various Artisanity social media channels, a programme of social events including a Christmas party, as well as individual business pages on the website.
Having already amassed dozens of followers across social media in only their first month, Artisanity promises to go from strength to strength throughout the remainder of 2023 and beyond.
Local creators, makers, and artists can find out more by visiting the Membership Section, searching @artisanityuk across the various social media platforms, or by emailing info@artisanity.co.uk.